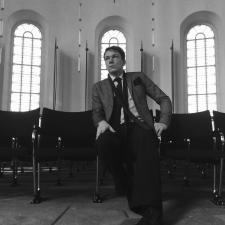 Mikael GB Horstmann ist ein "richtig Frankfurter Schlippche", aufgewachsen in der Kunst-, Theater- und Gastronomieszene der Stadt Frankfurt am Main. Es ist Berufsflâneur und Maître de plaisir und bittet Stadtführungen und Thementouren durch Frankfurt an:

Während andere Yoga machen, kocht er, um sich zu entspannen. Studierte Angewandte Theaterwissenschaft und Wirtschaftsrecht, arbeitete über zehn Jahre überwiegend als Selbständiger in den Gebieten Administration, Organisation und Logistik für Projekte und Institutionen in der Bildenden und Darstellenden Kunst. Aus den Randprodukten Veranstaltungsorganisation und -betreuung, sowie Persönliche Dienste ist das Unternehmen herr mika entstanden. Mikael GB Horstmann ist ehrenamtlicher Mitarbeiter des Deutschen Kochkunst und Tafelkultur Museums, bloggt zum Thema Tafelkultur und ist seit April 2012 geprüfter Stadtführer der Stadt Frankfurt am Main.

Zertifizierter Stadtführer der Stadt Frankfurt am Main | Tourismus + Congress GmbH Frankfurt
Mitglied des Vorstands des Vereins der Frankfurter Stadt- und Gästeführer e.V.
Mitglied des Bundesverbands der Gästeführer Deutschlands e.V. (zertifiziert nach DIN EN 15565)
Diplomierter Fachwerkführer der Arbeitsgemeinschaft Deutsche Fachwerkstraße e.V.
Absolvent des Museumspädagogik-Kurses "Die Sprache der Dinge" des Hessischen Museumsverbands
AUF DEN ERSTEN BLICK
- Frankfurt auf den ersten Blick
- Frankfurt-Alt-Sachsenhausen auf den ersten Blick
- Höchst auf den ersten Blick

THEMENTOUREN
- Frankfurter Geschichte(n)
- Die Frankfurterin: Fast vergessene Frauen
- Das Höchster Fachwerk
- Die Paulskirche – Ort der Demokratie und Einheit

STADTWANDERUNGEN
- Gemaltes Frankfurt, Stadt am Fluss

LITERATURFÜHRUNGEN
- Frankfurter Literatur-Spaziergang

Kulturhistorisch-kulinarische Führungen | Le Flâneur Culinaire
- Frankfurter Tee-Spaziergang
- Frankfurter Wurst-Spaziergang
- Frankfurter Kochkunst & Tafelkultur
- Frankfurter Apfelwein-Spaziergang
- Höchst KÄUFLICH – Einkaufen & Einkehren
Mikael GB Horstmann has served. And he still serves. For him, service is not culture but nature. He comes from a gastronomic, or service-oriented, Frankfurt family and earned his first bread rolls in service in several Frankfurt five-star hotels and on executive floors of well-known banks and insurance companies.

While others do yoga, he cooks to relax. Studied Applied Theatre Studies and Business Law, worked for over ten years mainly as a freelancer in the areas of administration, organisation and logistics for projects and institutions in the visual and performing arts. From the former fringe activities of event organisation and protocol the brand herr mika has eben developed, under which Mikael GB Horstmann works as a trainer for manners, etiquette and non-verbal communication. Mikael GB Horstmann was honorary director of the Museum of Culinary Arts Kochkunstmuseums in Frankfurt, blogs on the topic of table culture and has been a professional flaneur in Frankfurt and the surrounding area since April 2012.

Certified tour guide by Stadt Frankfurt am Main | Tourismus + Congress GmbH Frankfurt
Member of the Frankfurt Guide Association Verein der Frankfurter Stadt- und Gästeführer e.V.
Tour guide Bundesverband der Gästeführer Deutschlands e.V. (certified according to DIN EN 15565)
Certified guide for timberframed architecture by Arbeitsgemeinschaft Deutsche Fachwerkstraße e.V.
Certified garden and park guide by GartenRHEINMAIN
Graduate of the museum pedagogy training "Die Sprache der Dinge" by Hessischen Museumsverbands.
Member of the German Association of Museum pedagogics Bundesverbandes Museumspädagogik
Listed trainer for non-verbale communications (DIN EN 15565) at the Bundesverbands der Gästeführer Deutschlands e.V.
WALKING TOURS
- Frankfurt for beginners
- Frankfurt history tour
- The new old town in Frankfurt
- Frankfurt-Höchst - the half-timbered treasure

TOURS BY COACH
- Frankfurt for beginners

Ask for individual tours with your favourite topic (arts, architecture, food, history, shopping).