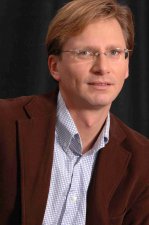 Deutsch, Englisch, Französisch
Jens-Peter Meyer, Jahrgang 1966, studierte in Frankfurt und Straßburg Volkswirtschaft und Politikwissenschaften. Seit 1989 ist er geprüfter Gästeführer in Frankfurt am Main. Meyer arbeitet freiberuflich für mehrere Agenturen, die Stadt Frankfurt am Main, Kunden aus dem Veranstaltungs- und Bankensektor sowie Limousinen Services

Er kennt die Stadt und ihre Bewohner seit der Schulzeit aber auch durch Jobs zwischen Apfelweinkneipe und Investmentbank.

Jens-Peter Meyer ist Moderator und Autor eines historischen Thrillers. Bei seinen Touren schimmert der Entertainer oder der Philosoph durch. Informatives wird unterhaltsam erzählt.

Durch Reisen in Russland, Karibik, China, USA, Marokko und europäischen Ländern verbindet Meyer Querverweise und Kuriositäten aus aller Welt miteinander. Er regt gerne zum Nachdenken und zum Schmunzeln an.
Die Rothschilds - Aufstieg zur größten Bank der Welt
High Heels & High End - Die Shopping Tour mit Modegeschichte(n)
Tour d´Argent - Die Welt des Geldes
"Schwarze Schafe" - Berühmte Skandale und Affären
Nummer 1 - Rekorde. Die Stadt von ihrer extremen Seite
Helden - Besondere Menschen und Taten
Die Männer Tour - Mal ganz unter uns!
Green City - Parkanlagen und Umweltprojekte
Night Flight - Nachtleben und High Life in Mainhattan
Tutti Frutti - Von Allem Etwas

Just Landed - Das Wichtigste für Neu Frankfurter
Kids Incorporated - Die Tour für die ganze Familie
Crime Time - Die tödlichen Seiten der Stadt
Die unbekannte Stadt - Skurilles und Bizarres
Architektur, Wolkenkratzer und Designer Hotels
Banken, Börse und Wirtschaft
Goethe
Das Rotlichtviertel
Die Paulskirche - Wiege der Demokratie
Historische Altstadt mit Dom und Kaisersaal
Apfelweintour mit Verkostung
I.G. Farben / Campus Westend
Das Mainufer / City Illumination
Weihnachtsmarktrundgang

Professionell
Begleitung von Fotografen, Location Scouts, TV Teams und Journalisten

VIP-Programm
Familie, Paare, Singles: Entertainment. Luxus. Philosophisches. Life Style.

Raumfahrt Kontrollzentrum der ESA - ESOC Darmstadt

Rheingau und Weinproben
Heidelberg
Saalburg
I studied economics and political sciences. Ever sind then, that is now 25 years ago, I worked as a certified guide for the City of Frankfurt. After some years in industry and finance my former student job became my full time job. That was 10 years ago. Ever since then I worked for many distinguished customers in our financial community, event agencies, the German Central Bank and a wide range of divers travel agents around the world. I am a member of the German Tour Guide Association and hold a driver guide license. To describe myself best, think of an entertainer and a philosopher at the same time. I believe a city tour lives on carefully selected information - less is more - and that should be presented with a good sense of humor.
Classic Tour - Modern and History

High Heels & High End - The Shopping Tour

Just Landed - Practical Stuff for Expats

Minecraft - Infrastructure and Architecture
CSI - Where Crimes took place
Curiosity - Unknown Places
Night Crawlers - Party Time / Clubs / Night Life
The Rothschild Bank - A living Legend

VIP - Exclusive Tour in Mercedes S Class / Van

Heidelberg - Town and Castle
Rheingau Valley - Vineyards and History

For Professionals - TV Teams & Journalists